I did not really start reading books until I was a teenager. My father subscribed to the Reader's Digest (I didn't even know the RD was still around until I checked for a link). I loved reading Astérix, Tintin, and some children books. I do remember that I enjoyed thumbing through our encyclopedias. I went to a vocational secondary school (graduated in electro-mechanics). Minimum literature standards were the default setting. I think I had one book assigned in six years! But, kudo's to my French teacher -thanks to whom I discovered Rimbaud, or at least, one of his poems, Le dormeur du val. What I count as my first real encounter with "literature" (whatever that term means) was in a hospital room where I spent a week at age 14 or 15, when they suspected I had meningitis. I didn't. But I did discover Le dernier des justes (The Last of the Just) by André Schwartz Bart. I do not know how it landed in my hands— whether it was lying around at home or at the hospital— nor do I remember much about it. Whatever its merits, Le dernier des justes opened the doors to another world. Since then I have never stopped reading.
Through the years, I have learned to discipline myself and categorize my readings. Some books you read to relax (Jack Reacher anyone?); some to keep abreast of your field of work, whether they bore you to death or not; others to keep up with the culture; others to withdraw from the world temporarily in order to go back to it and live differently (that's one reason I like reading Kierkegaard from time to time); etc. You do not read every book for the same reasons nor in the same way.
I do appreciate discovering authors and books through book sections in newspapers, literary and professional journals, and blogs. Now and then I am asked about my readings or, gracious me, for recommendations even. That's one of the reasons for this "Books of the year column" – to bring attention to works that are worthwhile, to me at least.
As always, most of my readings of the year are not new publications. I have a pile or a list of books waiting sometimes for years to be cracked open.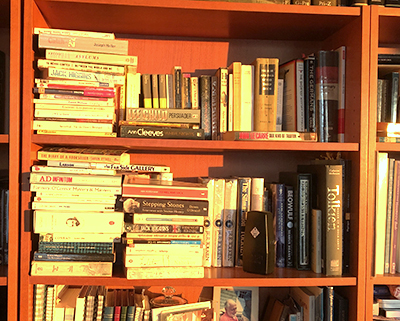 Lately, I have tried to read a bit more by African American authors. I have always been sensitive to issues related to justice, discrimination and the fate of minorities in the USA but had not read much by these authors.
So here again are a few thoughts and tidbits about my readings of the past year and maybe a few ideas for these times of confinement.
Reading for Fun
For fun and relaxation, I stick to detective and crime novels.
Following our trip to Oxford in late 2018, I continued rereading some of Colin Dexter's Morse novels. Not only are they well written, but they are also funny in their own way. I, of course, consumed my yearly doses of Lee Child's Jack Reacher with The Midnight Line and Past Tense.
I revisited Martin Cruz Smith, Gorky Park, one of my all-time favorites.
To my shame, I have only recently begun reading my fellow Belgian George Simenon. I have so far thoroughly enjoyed most of his Maigret and other stories.
Politics, History
Among many works in that category, two stand out: The Maisky Diaries, which I bought several years ago, and The Iron Kingdom, which I finished in early 2020.
The Maisky Diaries (see here for a fuller account of the book) was an interesting take on what went on behind the scenes in the years before WWII and during the war. Maisky was the USSR's ambassador in London from 1932 to 1943. Granted, one must take some of his statements with a grain of salt. He was not, after all, privy to every event and conversation that led to the war. He was also sometimes trying to guess where Stalin was going and curry his favorable opinion but Maisky offers fascinating vignettes and portraits of those turbulent times. A must read if you are interested in the history of the WWII.
Clark's The Iron Kingdom is a massive history of Prussia from 1600 to its demise in 1947. It is a bulk of a work, which made me hesitate to open it. Was I that interested in the history of Prussia? I do no regret my decision to make this my book on Germany for the year. It did take me about three months to finish it though. This is definitely a work to read if you want to have a better understanding of Germany and the history of central Europe in the last four centuries. There is today in many fields a tendency in the English-speaking world for authors not to know foreign languages enough to really work with the literature available outside of English. Clark being from Austria means that he fluently resorts to resources in German, a definite plus when dealing with Prussia and Germany.
Philosophy
I keep on working on the issue of political philosophy and theology (often indistinguishable in the past, or even recently for that matter as the role of religion in Russia, the USA, Hungary, etc. demonstrates). In 2019 I continued studying Thomas Hobbes by reading his De Cive, Leviathan and Behemoth.
I found Crignon, La philosophie de Hobbes to be a nicely balanced approach to Hobbes, and short to boot. A plus is that, contrary to many, he does not neglect the second part of the Leviathan where Hobbes interacts mostly with the Christian Scriptures. It is through Behemoth that I discovered Richard Allestree's The Whole Duty of Man, an immensely popular work long after its publication in 1658.
Biographies
Michelle Obama, Becoming I don't often read presidential or prime-ministerial autobiographies, but I really wanted to have Michelle Obama's perspective. Not only as part of my African American readings but also because I have been trying to read more books by female authors. Additionally the Obamas are from Chicago, one of my favorite cities. I still remember taking a wrong turn and being lost in South Chicago while visiting my wife's family in 1987.
Michelle Obama is obviously very bright and industrious and, assuming she actually wrote all or most of this book, a good writer. I did enjoy the first part more than the second, the presidential years. No need here to go over a well-known story but I did come out of the book with respect for Michelle Obama's hardworking blue-collar family and perturbed again by the racism and misogyny of our contemporary societies. I would definitely recommend reading this even if you are not an Obama fan.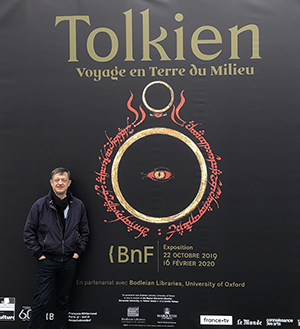 Tolkien, Maker of Middle-Earth Having discovered Tolkien in the mid-eighties and enjoyed him regularly since then, I could not miss the exhibit on which this book is based. I did not make it to the Oxford edition but went to see the Paris version (picture in Paris). I got this book as a Christmas present and, despite having read quite a lot about Tolkien, still learned interesting new information. Get the hardback copy. The quality of the pictures and reproductions makes it worth the price.
Ta-Hehisi Coates, Between the world and me. This too was part of the books by African American authors I wanted to read. How to live in the USA as an African American without religion as a consolation? How to live daily with a historical and systemic racism whereby fear is tantamount to not being free? For him a trip to France reveals the possibility of another life as it did for James Baldwin, who eventually moved to France. Racism is, of course, present in France too, as the author's Algerian taxi driver who hates France tells him, but of another nature.
Still, it is a striking feature of the USA that racism is not only individual but inscribed within its history and system as is demonstrated by slavery, the contemporary massive incarceration of African Americans, voting for overtly racist candidates through the decades as well as in recent times. In my opinion, there is also a collective cultural responsibility, with the unfortunate compromising collaboration of many white churches still today.
I would not say that I relished the author's style and I wished there was more information about how it became possible for him to become what he is now, about what has positively changed here and there and what way forward he would suggest. On the other hand, the blatant racism against the Obamas shows that many things have not changed in the USA since Baldwin's The Fire Next Time.
Literature
Again, two books stood out in this category in 2019.
Morrison, Beloved. This was on my "I should read this book" list for years. I must confess that I had a hard time getting into the story and Morrison's style. At first, the numerous flash backs got me confused and lost. Who was talking, to whom, and about whom was not always evident. I almost quit reading but decided to persevere. Then I found my marks and from then on I found the story luminous. Despite its dark side, it is a story of hope where all ends well, mostly (a good American ending).
Kerouac, On the Road I had been wanting to read this American classic for many years and finally got to it during our Atlanta summer stay. You have to like a book of which a good deal happens in Denver, where I lived for a while, and that quotes Alain Fournier's Le Grand Meauslnes and Proust—French classics and rightly so– and finishes with Pooh. Not much happens in this story. You often feel exasperation with Dearn Moriary, easy love and relationships, women tossed to and fro along the road, the use and abuse of alcohol, and robberies, yet you get attached to the characters. At least I did. A meditation on life that reminded me of Didion and Kierkegaard. It took me a couple of days before being able to start another book once I closed this one.
There you have it for the Year 2019. Have a good reading year.
See